See on Scoop.it – H2H Marketing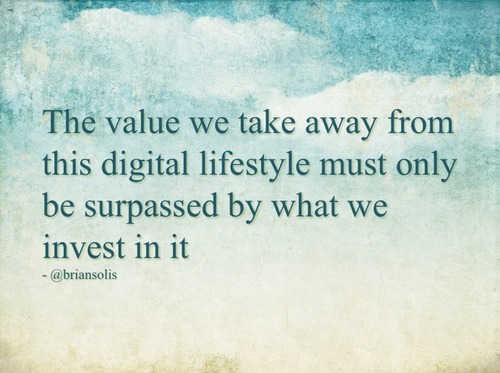 I often feel alone when I'm not connected or that I'm missing out when I read the updates of my friends. It makes me rethink my priorities in ways that wouldn't be the most productive…at least by yesterday's standards. Should I have joined them? Maybe getting out would be just what I needed. Again, I know I'm not alone.
I'm not addicted. I'm not in need of a digital intervention or digital detox. I intentionally live this connected lifestyle because I find value more times than not. It's a choice. But, still I wonder. I wonder if the value I get out of my interaction across a dizzying array of networks is right or simply right in the absence of discovering alternative value or utility.
Fabrizio Faraco's insight:
I refer to today's value system in social engagement as the 5 Vs. With each update, we look for something in return and each represent a shifting balance between…
1) Vision (I learn something, I'm inspired);
2) Validation (I'm accepted or justified);
3) Vindication (I'm right, cleared);
4) Vulnerability (I'm open); and
5) Vanity (Not egotism, but accidental narcissism. I'm important),
These 5 V's coalesce differently with each update and produce distinct emotional results based on the measure we apply to our own actions, reactions and inactions.
See on www.briansolis.com