See on Scoop.it – H2H Marketing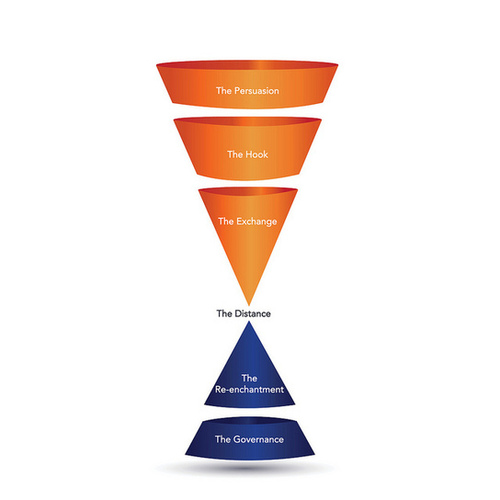 Over the years, businesses have developed sales, marketing and service strategies around the funnel. Awareness, interest, desire, action, to this day, describes the likely steps a customer may take in making a decision. Over the years, it was assumed that the liner path would also continue through a transaction to a state of loyalty and ultimately advocacy. The process of customer engagement to this day is designed to shepherd people along this delicate path. For at any moment, consumer attention, interest, and resulting action could fall astray without superintendence.
Fabrizio Faraco's insight:
I call this the "Cluster Funnel" and it's meant to demonstrate how a customer lifecycle when viewed in aggregate is broken.
Without awareness there can be no consideration. Hence, businesses today invest to varying degrees and effectiveness in marketing, advertising, and communications strategies. To earn customer attention isn't a switch that toggles on and off, it is a state of perpetual engagement. The blaring noise that customers continually experience has forced them to adapt. Second nature acts as a defense mechanism to tune out the constant barrage of marketing messages and clever campaigns. Awareness at the top of the funnel is elusive but never more important.
See on www.briansolis.com